Poison Education and Prevention
The Poison Education and Prevention (PEP) service along with the Drug and Poison Information Service are one of earliest programs adopted by the National Poison when it commenced operation in 1995. The PEP implements systematic and continuous education and poisoning prevention programmes offering these to health professionals, students and the public. These programmes are usually implemented in collaboration with government agencies and Non-Governmental Organisations (NGOs). PEP's core programme incorporates Chemical Safety, Rational Drug Use, Tobacco Control and Substance of Abuse. Implementation of PEP Programme is structured to support the basic domains of health promotion strategies i.e. Health-Literacy, Building-Capacity and Community Empowerment.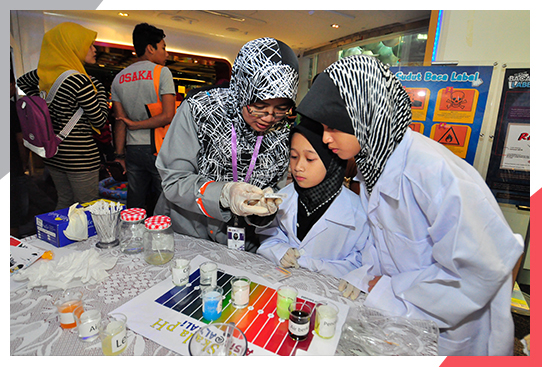 Programs and Products
Health Literacy
Publication of various educational materials through multimedia and other formats according to the need of the target group.
Toxicology in The Classroom (Toxiclaro)
Printed materials such as book, poster, brochure and banner.
Digital materials such as video, montage and smartphone application.
Writing in magazine such as Majalah I-Sihat, Dewan Kosmik
Modul Latihan Pencegahan Penyalahgunaan Inhalan
TOXLAND ADVENTURE Module
Bengkel Aplikasi VIPP dalam program Duta Kenali Ubat Anda.
Substances Abuse Prevention Course - INHALANT.
Bengkel Inisiatif Bebas Tembakau (BIBT).
Tobacco Control Program Among School Children - Siri Jelajah Sihat.
Drug of Abuse and Social Misconduct Prevention Program with Qariah Masjid Ayer Itam, Pulau Pinang.
Substance of Abuse Prevention Program with Teluk Kumbar Community.
Toxland Adventure: Science Engagement with Scientist from National Poison Centre.
Strengthening Health System
Tobacco Control Policy – USM Bebas Tembakau Project.
mQuit Services – Integration of Quit Smoking Service and USM Tobacco Quitline at national level.