Research and Documentation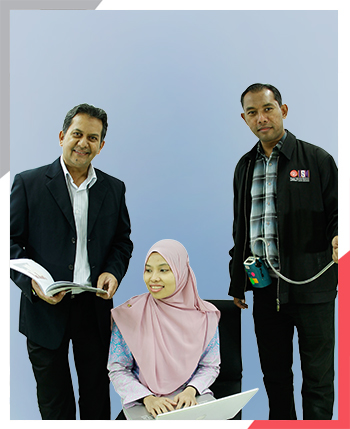 The Research and Documentation Unit (RDU) coordinates studies and research activities undertaken by the National Poison Center. To date, these research studies have involved aspects of toxicology, environmental health, occupational safety and health, drug policy management, health informatics and tobacco control.

The Poisons Information Service within the RDU is responsible for maintaining a comprehensive electronic database on chemicals, pharmaceuticals, plants and venomous animals used as reference. All poisoning cases are systematically documented for study analyses and reporting purposes.
Studies and project works carried out by the National Poison Centre are:
Lead Level in pre-school children in specific coastal towns in Sabah, East Malaysia (Funded by the Sabah Foundation)
Study on Lead in Children, Pregnant Women and in Stationaries (Funded by the Ministry of Health Malaysia)
Evaluation Study on Drug Education and Prevention Activities (Funded by the Malaysia National Anti-Drug Agency)
Development of an Animated Guide on Indoor Chemical Spraying (Funded by WHOPES)
Development of a Training Module for Schoolchildren on Pesticides and Health (Funded by the International Union for Pure and Applied Chemistry)
Development of a Training Kit for Management of Pesticide Poisoning (Funded by the WHO-IPCS)
Development of Training Module on Toxicology in the Classroom (Funded by UNEP)
Study on Use of Inhalant among schoolchildren (Funded by the national Knowledge Transfer Programme)
Development of a web-based Interactive Drug Information for the Western Pacific Region (Funded by the WHO - Western Pacific Regional Office WHO)
Development and Hosting of an Electronic Monitoring System for Reporting Counterfeit Medicines (Funded by the WHO - Western Pacific Regional Office)
Facilitate a Training and Bi-Regional Meeting on Hospital Pharmaceutical Therapeutic Committee and Drug Information Service (Funded by the WHO - Western Pacific Regional Office)
Development and maintenance of the WHO/Public NGO website on Database of Drug Promotion
Rockefeller Foundation:

The establishment of a Clearinghouse for Tobacco Control (Southeast Asia)
The formation of the Malaysia Council for Tobacco Control (MCTC)

Cancer Council Victoria, Australia, Roswell Park Cancer Institute, USA, University of Waterloo, Ottawa
Southeast Asia Tobacco Control Alliance, Bangkok, Thailand
Tobacco-Free Kids, USA:
International Development Research Centre:
Swedish International Development Agency:

Tobacco Control Activities for Vietnamese Health Officials

Duke University:

Study on Tobacco Illicit Trade

American Cancer Society:
WHO - Western Pacific Regional Office

Capacity-building & Training and Garnering Support for Tobacco Control

Malayan Trade Union Congress, Department of Occupational Safety & Health, Ministry of Health
Malayan Sugar Manufatcurer
Melaka State Health Department
Royal Customs of Malaysia

Contraband tobacco studies

Malaysia Health Promotion Board (MySihat):
Johnsons & Johnsons

Quitline services (Smoking Cessation)
Planet Connection:

Provide health-related content for Tele-Health
Kementerian Sains, Teknologi dan Inovasi:

Herbal Hub: Database System
Pharmaniaga Solution:

Content provider for Herbal Info-Hub
Kolej Komuniti Kementerian Pengajian Tinggi:

Program Kebolehpasaran Graduan Kolej Komuniti (Multimedia)
Kementerian Kesihatan Malaysia:

Produk Multimedia Kenali Ubat Anda
Perbadanan Kota Buku:

Buku Digital Interaktif - Siri