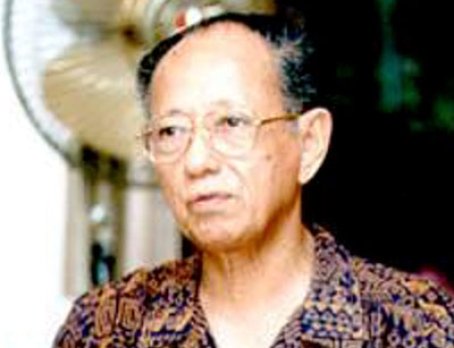 Datuk Abdul Razak Abdul Hamid was a student at Hiroshima Bunn University during World War 2
KUALA LUMPUR: THE country's sole survivor of the Hiroshima atomic bomb attack in Japan 64 years ago, Datuk Abdul Razak Abdul Hamid, died yesterday.
The 88-year-old grandfather, fondly known as "sensei-Razak" among his friends and former students, died at Kuala Lumpur Hospital at 5.30pm.
Razak was rushed to hospital after complaining of severe chest pains yesterday.
One of his three children, Universiti Sains Malaysia former vice-chancellor Tan Sri Dzulkifli Abdul Razak, said: "This is a sad day for the family. On July 7, we had celebrated his 88th birthday and now he is gone.
"However, we have accepted my father's passing as fate," Dzulkifli said when met at his father's house in Taman Kamariah, Gombak.
The burial will take place at the Muslim Cemetery in Taman Ibu Kota today after the Zohor prayers.
Razak was a student at Hiroshima Bunn University (now University of Hiroshima) when the devastating atomic bomb attack took place during World War 2 on Aug 6, 1945.
He was on his way to attend a lecture at the university when the atomic bomb was dropped by United States bombers of the Allied Forces.
It was a close call for Razak as the university was located 1.5km from the epicentre of the first atomic bomb explosion.
He was forced to abandon his studies following the horrific devastation in the wake of the bomb attack.
His outstanding contribution to promoting the Japanese language and creating mutual understanding between Tokyo and Kuala Lumpur had caught the attention of former Prime Minister Tun Dr Mahathir Mohamad. Razak was then asked to head the Look East Policy in 1982.
Due to his in-depth knowledge and passion for the Japanese language, Razak was given the task of coordinating the programme at the Centre of Preparatory Education at Institute Teknologi Mara (now Universiti Teknologi Mara).
Last February, Razak was conferred an honorary doctorate by his alma mater for his love of the Japanese language and culture that has compounded efforts to foster a strong relationship between Malaysia and Japan.
It was reported that Razak was one of some 1,760 foreigners, almost all of them Koreans, recognised by the Japanese government as those who had survived the atomic bombing.